So, gentle reader I'm sure by now you are wondering what has happened to us. We returned from our Western adventures to find ourselves in that terrifying place known as Boatyard Purgatory. It is what happens when no one is working on your boat, but everyday you hear promises of results. We were sorely tested but we came through with only a few severe lacerations to our pocketbook: Much green was shed!
It turns out our transmission stopped transmitting so a replacement was found. Unfortunately the task was beyond the equipment I have on board so I contracted with the yard to do the work. After 3 1/2 months but only 32 hours of actual labor we have a beautiful new gearbox. And because they decided to disassemble the system with a Sawsall we also have a new aqua drive, thrust bushing, and stub shaft to complement the arrangement.
Meanwhile I borrowed their crane and removed the old dinosaur of a generator and installed a new, smaller, lighter and quieter 8kw unit that right now is humming along almost inaudibly. We also made some rig changes and added a third reef line to the mainsail. Nancy helped install new batteries to replace those damaged by immersion. We added two new solar panels as well to the array. But the best thing we did was ditch the old satellite system, which was too expensive to use, and mounted a shiny new Starlink for world-wide communication. Nancy is ecstatic!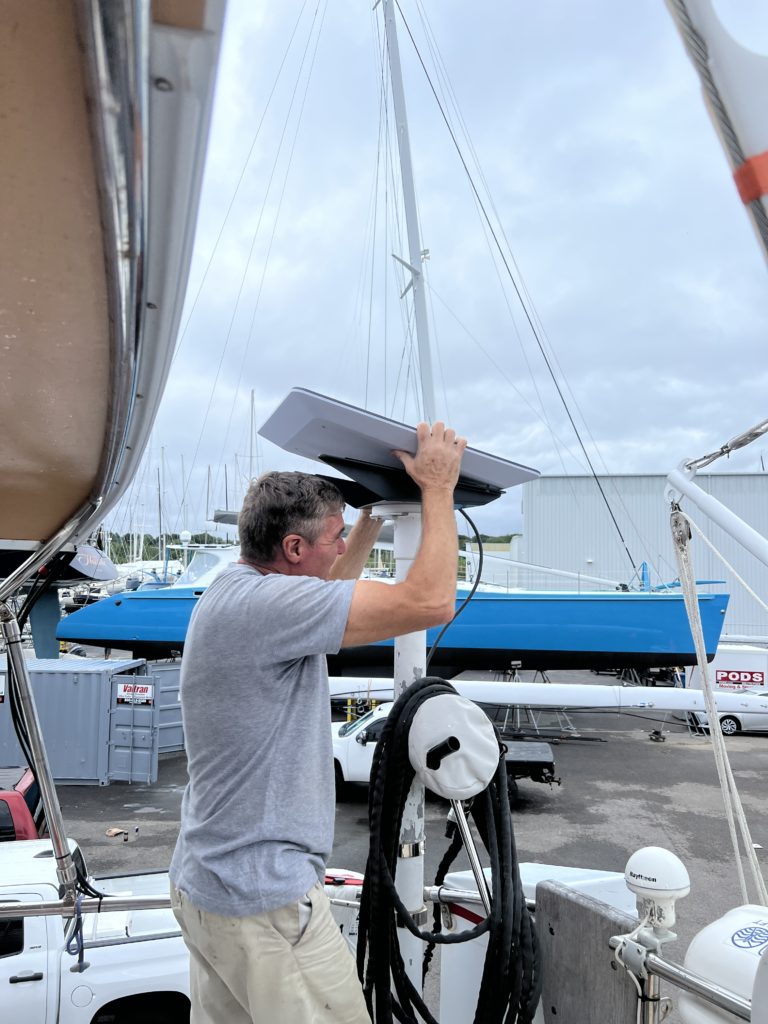 We did all this in a quick week back in July while we were waiting for a technician for the tranny. So, rather than sit around paying for a rental car and hotel, we jumped back on the train and headed home. We took the Lakeshore Limited to Chicago and stayed with my aunt and uncle until they decided to tear down the house just to get rid of us! Their new addition was begun while we were there so we took a boat tour of Chicago architecture and celebrated Aunt Jackie's ## birthday.
Then it was on to Des Moines where we basically hung around like slackers for three weeks. We took a road trip up to Dubuque and La Crosse in the TR-6 and when we got home, my parents had returned from Great Britain, so we got to spend some family time, phew!
We decided to ride the rails back to the boat and had a pleasant dinner at the Tortoise Club in Chicago while waiting between trains. This place is classic supper club styling rich wood, sensuous colors, great food, cocktails and jazz! Highly recommended, it is a must stop whenever we are in town. A nightcap on the train and to sleep, perchance to dream. We left the train in Albany after lunch, where we stayed at a delightful boutique hotel and had a fabulous Italian meal with interesting folks in the old part of town. We picked up a car there and meandered our way back to Portsmouth, RI.
We finally splashed the boat on the 30th of September and got away from the dock a few days later. First, we had to test all the new installs, Nancy did a major provisioning run while I cleaned the boat and made it livable again. We went to two different lockers to get a freezer full of great cuts of meat, hit the liquor store, said farewell and hit the bay.
We've been anchored over in Mt. Hope Bay for a few days simply decompressing and settling in. We're going to hang around Narragansett Bay until the end of the month, then head south to Antigua again. The leaves are beginning to turn and the autumn weather has been great… when it isn't raining. Thanks for hanging in there with us and stop by anytime.
Don't forget to subscribe and drop us a line from time to time as we have unlimited access now with the new Starlink.